Putting On a New Face
As our previous PortraitSend.exe program has now been replaced with our new Web-based Portrait Sending feature, we would like to take a bit of time to explain this new feature in detail, along with what steps you need to complete to upload your portrait successfully.. This feature is useless to you unless you have purchased a Personal Portrait Space. If you're interested in purchasing this, click here. Orders may take a while to process, depending on how you pay for your order.
First, you must visit http://www.furcadia.com/services/portrait, where you will find yourself at a log-in page: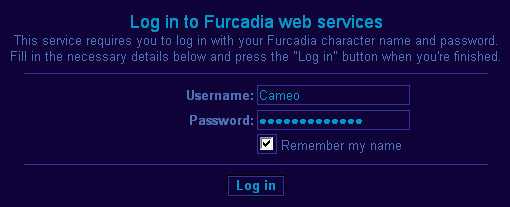 Entering your Furcadia Character name and its password will take you to a main interface, listing the available portrait spaces that are associated with your character. If you find that you are missing a recently-purchased portrait space, please do not hesitate to e-mail orders@furcadia.com: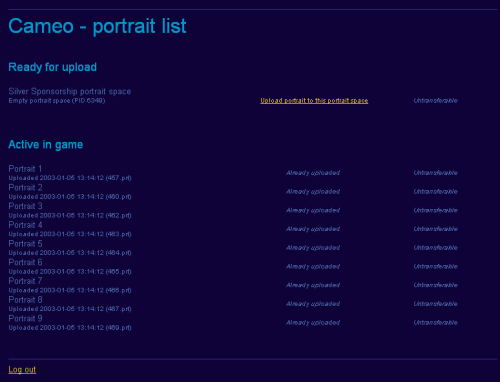 The page lists currently-uploaded portraits that remain both untransferable and unclearable in-game, along with portraits that are "Ready for upload". To upload a portrait, you must have portraits listed under the "Ready for upload" title; to continue to the portrait uploading tool, be sure to click the "Upload portrait to this portrait space" link, as shown below:


After clicking this link, you will be taken to a page displaying the necessary file extensions and size requirements for your Furcadia portrait space. Please be sure to read the directions carefully!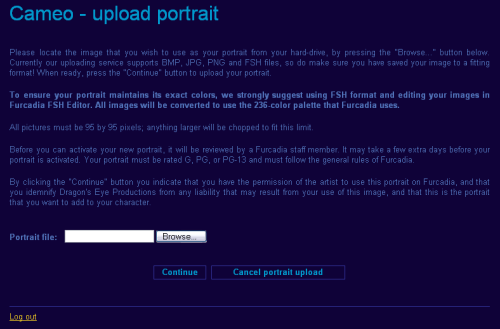 Once your portrait is saved to your hard-drive, click the Browse button to find the appropriate folder that you saved your portrait in:

Be sure that you've selected the right portrait before continuing by pressing the Open button.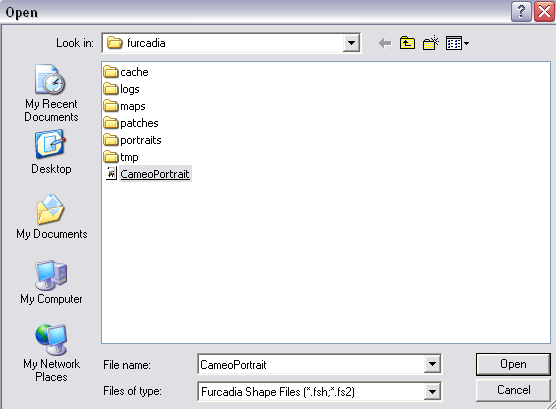 If your portrait is not already remappable, two previews will be shown to you (if it is remappable, only one preview will be shown). Choose the one you wish to use, after closely reading the examples of each portrait. Once you've chosen your portrait, continue by clicking the Submit portrait for approval button.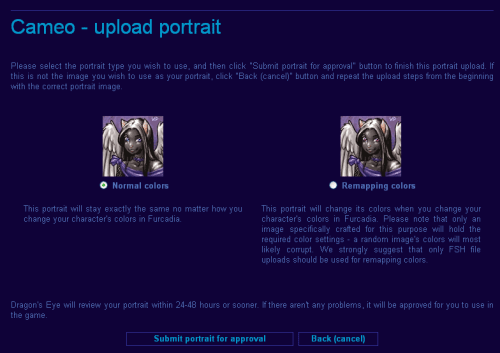 After this step, you will find the following statement, along with your Ready for upload area replaced with Waiting for approval. If you have a Silver Sponsorship, as shown below, your portrait will be able to be reuploaded every thirty days. Portraits submitted within regular portrait spaces are not reuploadable.
Portrait upload is now complete and your portrait will be reviewed and activated within a couple of days.

Your portrait is now sent to Furcadia. Your portrait should be activated within a day or two after you submit it. You're done sending your personal portrait, so you can continue browsing around the web!
---
That wasn't that bad, now was it? You're able to store up to several dozen custom portraits for a character, so have fun. If you have any further questions about portraits, please make sure that the information isn't found anywhere else in these guides and then feel free to contact The Beekin Helpers.
Home to [ Beekin's Furcadia Guide ]



This page, subsequent pages and all content therein, unless otherwise stated is copyright © Dragon's Eye Productions. Site maintained by The Beekin Scribes.