---
How to get started
Installing Furcadia and joining our community is free, easy and quick! Just follow these steps;
---
Step One:
Download the software by clicking the button above! Furcadia doesn't take much space on your computer, so the download is very small! This should only take a few seconds or minutes, depending on your connection.
---
Step Two:
Open or double-click the Furcadia file you just downloaded. The setup program will guide you through the entire installation of the software on your computer. If you have an older version of Furcadia installed, it will be automatically located and updated.
---
Step Three:
Run the game! Since it's probably your first time visiting, you'll be asked to create your first character. Other than your character name, you can change everything later too, so don't worry about the details too much. Pick a good password, though, and we need a valid email address so we can send you a confirmation note!
---
Step Four:
The first time you enter Furcadia's world, you'll arrive in a specially designed Welcome area. Look around, bump into the signs for bits of information, and explore! There's even mini games here that you can play.
---
Step Five:
Now you're ready to dive into the game! Hop to an area of your choice and continue exploring! The portals you see in many places are player-created "dreams". Feel free to enter those, and later you can even learn to make your own!
---
Step Six:
Have fun, meet people, be creative, and make friends! If you run into any problems, or have questions, below are some useful links that help you out. If you can't find an answer, visit our Community Forums, or type in the game: help I have a question! and one of our wonderful volunteers will get in touch with you!
---
Additional Information
Furcadia is in the "alpha" stage. This means that it is still in development, and new features are added frequently. If you have suggestions or encounter bugs, please leave a message on our Community Forums or use the ticket system. Although Furcadia is free to use and download, it is still copyrighted property of Dragon's Eye Productions, and you may not offer the Furcadia client as a download from another web site. We would, however, be honored if you would offer the following graphic, or some banners created by our players, as a link from your web site to this page: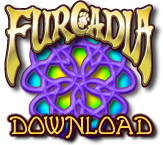 Another great way to advertise Furcadia and help out your new community is to print out a few flyers and post them around town. You even have a chance to win free stuff.

More information about Furcadia flyers here!