Donated:
$273855
Backers:
2576
Treasure!

Newsletter
A weekly overview sent to your email, summarizing what we've completed, what's ahead, and some interesting details of our work!
---

Coloring Page
You get access to download a digital line-art version of our AngelCat artwork by Majas, in PDF format. Print it out and color or enhance it digitally to your liking.
---

AngelCat Desctag
Desctags are icons that appear in your Furcadia character description. Having this one lets everyone you meet know that you are in the AngelCat group that backed our Kickstarter!
---

Extra Cookies
This reward gets you five extra free cookies for your character each day. You can give these out to other people in the game or eat them!
---

Art Vote
You get to vote for one of these to be our next new avatar: Mythical Ferian Griffon, Llama Ferian, Giraffe Ferian, Noble Wyrmme, Mythical Ferian Phoenix, Mythical Kitsune, Taco-Cat Freebie!
---

Feature Vote
Vote for which of these game features you want next: Gold Sponsorship, Adult Verification, Horizon Strip in top of map window, Alt Trading System, Graphical Secure Trading on the web, Automated Escrow service, Male/Female avatars for free species, Human free default avatar.
---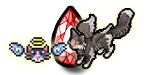 AngelCat Avatar
With this reward, your Furcadia character gains the ability to change into AngelCat form at any time, for one full year. Type `angelcat to activate!
---

Portrait Space
Stand out from the crowd. Rather than showing up with our default portrait on your character, this lets you upload any art or photo you like. Draw something yourself, or find an artist to draw it for you on our forums!
---

Snacks & Gifts
These items appear as desctags until you give them out, eat them, or throw them. Edible items have fun random effects, too!
---

Starter Guide
This is full of handy tips for your first few visits to the game. A very helpful read!
---

Wings
Having wings lets your avatar in Furcadia change into a flying form any time you like!
---

Primes Coloring Book
You get a access to a digital downloadable art/story book with pictures of Furcadia's deities,The Primes, and the stories behind them. Print it out or just enjoy it on-screen. This item should be ready by March 2013.
---

Golden DragonScales
Scales are our in-game currency, so shiny! You can buy avatars and other items in our Digo Market with these! These can also be traded with other players.
---

Beta Forum Access
Read and post in a special forum about the Second Dreaming project as it unfolds, where only Backers and Furcadia staff are allowed access.
---

Beta World Access
This lets you download test versions and try out all of our new features as they are created! Also, you can connect to our special Second Dreaming Test World, to play those with your fellow backers and our staff. Chat about the new stuff, report bugs, make suggestions, and you get to see everything first before it's released to the general public!
---

Second Dreaming Print
Furcadia's original co-creator and art director is creating a new piece of Second Dreaming art just for this Kickstarter! Get access to a digital download of this full color artwork. With the Silverpelt Noble reward we will ship you a limited edition art print of this. This item should be ready by February 2013.
---

System Broadcast
Normally this function is reserved for important system messages. With this reward, you can promote your own creations, give a shout out to your friends, or anything you like. All of our thousands of people on Furcadia will get your message! Please be aware submitted items might take up to a week to show in game.
---

Custom Desctag
Upload your own personal symbol or icon into your character's description! A unique identifier to set you apart and make your mark on the Furcadian world. Please be aware custom items might take up to a week to show in game.
---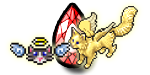 AngelCat FOR LIFE
A year of this lovely feline avatar is hardly enough. This reward is the only way to get this unique avatar, so don't miss your chance to be an AngelCat forever!
---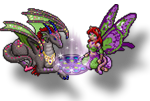 Dream Visit
Furcadia Creators Felorin and Emerald Flame will visit your dream for an evening, chatting with you and your guests about any subject you like. Meet the people that work on your favorite game! Please make arrangements with staff well ahead of time.
---

Kitterdust Magic
With this lifelong Kitterwing magic, your character will gain the ability to change to sizes from tiny to huge, no matter what avatar you're playing at the time. Bound to impress and to baffle your friends, both at the same time!
---

Heartbonding
This special ceremony is a Furcadia tradition for commemorating a deep friendship. It will be performed by Emerald Flame in a dream of your choosing or in Sanctuary. Please make arrangements with Emmie well ahead of time.
---

Heartbonding Desctags
The participants in one of Emmie's Heartbonding ceremonies receive these special icons to appear on their character forever after.
---

Silver Sponsorship FOR LIFE
Silver Sponsors are the Furcadian elite. They have exclusive commands and features, their own forum, special character options, and get early access to everything new added to Furcadia! You can find a complete list of what Silver Sponsorship has to offer [here].
---

Limited Edition Art Print
A limited number of physical copies of Creator Talzhemir's Second Dreaming art print will be produced, each individually numbered. With this reward, you get one of those prints mailed directly to you!
---

Skype Chat
You get an hour of Skype video chat with 30 year game industry veteran & Furcadia Creator, Dr. Cat. He'll fold you a dragon while you watch and mail it to you, write a limerick about you if you wish, and chat about any subject under the sun, or elsewhere. Please make arrangements with staff well ahead of time.
---

Origami Dragon
Each dragon is carefully folded by Dr. Cat from special shiny metallic foil origami paper. In this mass-produced era this is a true hand-crafted memento, directly from a Furcadia co-founder to you. Like snowflakes, no two are quite alike. Choose your color from gold, silver, red, orange, light green, dark green, blue, purple, pink or cyan. Please make arrangements with staff well ahead of time.
---

Item Design
Create a part of our game! You can make up a throwable or edible item, decide all the random effects, messages, and sound effects it should have, and we'll add it into Furcadia! Please make arrangements with staff well ahead of time.
---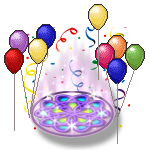 Dream Party
We'll announce your party multiple times to all of Furcadia, to help make sure you get a good turnout. Then as many of our staff as have free time that evening will attend and party with you and your guests!
---

Pawfasting
Inspired by the old-world tradition of Handfasting, this is our special Furcadia version. This romantic commitment ceremony is performed in your dream by Furcadia co-creator Emerald Flame. Please make arrangements with Emmie well ahead of time.
---

Pawfasting Desctags
Players Pawfasted by Emmie receive these icons to commemorate the occasion and to let everyone who sees them know forever after.
---

Dream Package FOR LIFE
Dream Packages give Furcadia creators more space and more options for what they build. Normally this requires a monthly subscription fee, but this Kickstarter lets you get it permanently for a one-time payment. Full details of what's included can be found here.
---

Furcadia FOR LIFE Tag
This special icon for your description lets everybody know how much you love Furcadia! This can be purchased through Digo Market on its own.
---

Renowned Avatar
For the first time ever, we'll let a few people provide their own art & animatons, and we'll put it in as a special avatar only YOU get to play. There's no better way possible to stand out from the crowd! Please be aware custom items might take up to a week to show in game.
---

Heroic Avatar
A custom avatar will be added to the game using your artwork, and you can share it with up to ten friends as well as playing it yourself. Please be aware custom items might take up to a week to show in game.
---

Legendary Avatar
This reward gets you a custom avatar without you having to draw or provide the art. Just describe how you want it to look, and one of our Furcadia staff artists will draw and animate it for you! Please be aware custom items might take up to a week to show in game.
---

Dinner & Gaming
Meet our San Francisco team, and spend an evening with Gar, Dr. Cat & Emmie in San Francisco! You pick restaurant and game, or we can pick for you. Please make arrangements with staff well ahead of time.
---

Permanent Dream
You get to build a permanent part of Furcadia! We will add your dream to our server, with labelled portal leading to it from a prominent location. Please be aware custom items might take up to a week to show in game.
---

DragonLord Dream
Work together with our staff to design a new main map, and our talented Dreamweavers will build it with you! This will really make your mark on the game in a big way.
---