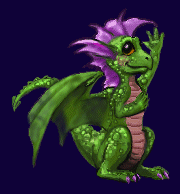 Welcome to Beekin's Furcadia Guide, a comprehensive help tutorial on Furcadia's main features. I am Beekin, the Help Dragon, and I will be your guide. Some computer games can be complex and even overwhelming when first played. Furcadia is a wonderful game which offers many options for its players, but I'm the first to admit that it is easy to find yourself stuck and/or confused in some aspects of its use!
This guide is a user's manual for you. Throughout the pages of this text, you will find helpful information on all of the different programs (.exe files) that come with Furcadia, along with general knowledge and frequently asked questions. To access the topics, please click the shortcuts below. To return to this page while you are viewing other topics in the guide, simply scroll down to the bottom of the page for the navigation bar.
---
Hook Me Up - Furcsetup018.exe

Welcome To Furcadia - Furcadia.exe

Editing Your Character - FurEd.exe

Making Your Dreams Come True - DreamEd.exe

Add Magic To Your Dream - VisualDS.exe

Add Your Own Art/Sounds/Music - FshEditor.exe

Putting On A New Face - PortraitSend.exe

Configuring Your Settings - Config.exe

Get Me Out Of Here - _Uninstall.exe
---
Commonly Used Phrases
Let me start by keying you in to a few words and acronyms that are commonly used in Furcadia that may not be so commonly used elsewhere. This may or may not be review for you, and it's not very long, so don't worry. Just a few things that will be used in this guide, so I figured I should define them first.
Think of the word furres and furre as being the words people and person. Furcadia is a land full of furres. This is the name given to its inhabitants. These will be the other players you chat and roleplay with in Furcadia.
IC, OOC & IRL: IC stands for In Character and is used for the roleplayed aspects of Furcadia. One furre may be a thief IC, while another may be a priest. OOC and IRL stand for Out Of Character and In Real Life respectively. When you talk about the weather outside, your homework, or your favorite movie, you're talking about OOC issues that deal with Real Life (RL).
AFK & AFF: AFK and AFF stand for Away From Keyboard and Away From Furcadia respectively. Furres will generally say this before they step away from their computer or turn their attention to something other than Furcadia. Saying this is a common courtesy, so that other furres do not think you're ignoring them, should they address you with a question or comment.
Desc: You'll hear this a lot. Desc is short for description. When you click on a furre, you see both their portrait of what they look like and their description. Many choose to shorten the word to just desc, however.
There are many other words that are used in Furcadia, but I only put a few that I considered important to this guide. It won't be that hard to pick up on the rest of them, and you can even find a semi-complete list here.
[ TOP ]
---
Now it's time for the good stuff. Chances are pretty good that you have already tried out Furcadia by the time you started reading this guide, but I'm going to cover all aspects of gameplay from the very beginning. I also tried to organize this guide in the order that you'd need it, so that it makes sense to read it from top to bottom. Below are paragraphs explaining different parts of the guides along with a link to the corresponding section of the guide. Feel free to choose any that interest you, but if you're not looking for specific information, or are just starting to get your paws wet in the wonderful world of Furcadia, then I suggest you read each section in order.
So you've downloaded the installer for Furcadia, but now what do you do? Well, it's easy. If you want to figure out how to install Furcadia onto your computer, or how to install/update specific folders, click the link above.
[ TOP ]
---
Choose the link above if you're interested in finding out information about creating a new character, creating multiple characters, or learning how the .ini file system for storing your character information is handled.
[ TOP ]
---
The Furcadia is a host to its very own community. Because of this, there is far too much to cover in any one guide for the actual game, but this section will give you all the information you need to utilize all of the commands, buttons and options available for you on the Furcadia.exe client. It'll also have a few links to other parts of the Furcadia website that has useful information about how to best utilize Furcadia.
[ TOP ]
---
So, you have a character, or thirty! The link above will give you information about the Furcadia Character Editor, which you open by double-clicking on the FurEd.exe file in your Furcadia folder. This is the program you use to change either what your furre looks like or what your furre's description shows.
[ TOP ]
---
So, you have a character, or thirty! The link above will give you information about the Furcadia Character Editor, which you open by double-clicking on the FurEd.exe file in your Furcadia folder. This is the program you use to change either what your furre looks like or what your furre's description shows.
[ TOP ]
---
Not only can you make a dream, but you can also program it to do various things. DragonSpeak (DS) is the programming language created solely for Furcadia, and you can use it to make your dream come to life. The link above has all the information you'll need to both learn the basics of DragonSpeak and to learn how to navigate around the VisualDS.exe program.
[ TOP ]
---
To allow your imagination to soar higher, Furcadia allows you to create what are known as patches. Patches let you change what the graphics (stored in .fsh files) in Furcadia look like. For information on patches, .fsh files, music files, sound files, and how to use FshEditor.exe to modify them, visit this section.
[ TOP ]
---
Have you ever noticed how some furres have a different, custom portrait than the default ones that come ith Furcadia? Have you purchased a custom portrait yourself? If so, you may have wondered just how exactly you send your custom portraits to Furcadia. For information on how to send your custom portrait to Furcadia, follow the steps in the link above.
[ TOP ]
---
Furcadia even has its own program used solely for changing and configuring your settings. You can configure anything from firewalls to parental controls. If you need any information about how to configure your settings for Furcadia, click on the link below. If you are having problems configuring your settings you may want to consult the Furcadia Tech Support pages.
[ TOP ]
---
Tired of Furcadia? Not that this will ever happen ;), but in the event that you do wish to remove Furcadia from your computer, you can use Furcadia's uninstall program to do so. If you want to know how to use this program to uninstall Furcadia, click above.
[ TOP ]
---
Closing Statements
Now how's that for a big pile of information! I hope I didn't overwhelm you too much. If you're just starting out in the land of Furcadia, don't get too upset if you don't understand most of this. Part of the fun is exploring and figuring things out on your own. As you become more experienced with how things work, more of this guide will make sense to you and will become more helpful.
The purpose of this guide is to teach you how to use all of the executable files in your Furcadia folder and to give you a general understanding of most aspects of Furcadia and what it has to offer. If you've read this guide in its entirety, you should be able to look at any individual file in your Furcadia file and either now know exactly what it does, or have a pretty good idea as to what it does.
I also know, however, that sometimes you just need to be walked through something by an actual person in order to learn it. If you're having a hard time with something, and this guide didn't help or was too confusing, feel free to contact the Beekin Helpers. If you don't know how to contact a Beekin Helper refer back to the "Welcome To Furcadia" section of the guide.
I hope this guide has helped answer some of your questions!
-- Beekin the Help Dragon
[ TOP ]


Beekin's Help Desk
This page, subsequent pages and all content therein, unless otherwise stated is copyright © Dragon's Eye Productions. Site maintained by The Beekin Scribes.